Written by Administrator
Friday, 18 November 2011 07:43
Last night Zoltán Mikóczy gave an interview to Hír Television you can watch the video here. Even though the video is in Hungarian its worth to see because you can see Dózi in the beginning. If you click on the read more button you can read the text for the interview in english.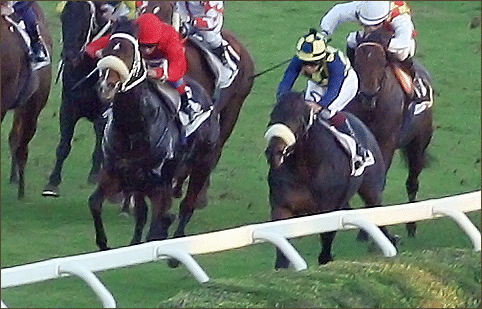 Read more...
Written by Administrator

Thursday, 17 November 2011 12:12
We have no exact information yet on whether Overdose will be there on the last horse racing highlight of the year, namely the sprint race at the Hong Kong Cathay Pacific International Races, however his name is indeed to be found on the list among the horses enrolled in this race. In what follows let me tell you a few words on this high respected event.
Read more...

Written by Administrator

Wednesday, 16 November 2011 08:04
Our rivals serious is over with this article. Sorry this section was only available in Hungarian.
Read more...

Written by Pászti Judit Amina

Tuesday, 15 November 2011 13:37
The victory of Overdose in Rome. You can watch it by clicking here.

Written by Administrator

Monday, 14 November 2011 19:59

Hungarian Television (MTV) report from this morning with the owner of Overdose here. They talk about how he has won in Rome. Zoltan Mikóczy tells on the phone that Dettori had felt the horse well and only asked of him what was necessary to win the race. This was Dettori's first victory in Rome, for Overdose it has been the second already. If his health will be all right he can run in more prestigious races in the future even overseas. 
<< Start < Prev 1 2 3 4 5 6 7

8

9 10 Next > End >>


Page 8 of 66